Thank You for Coming to MODEX!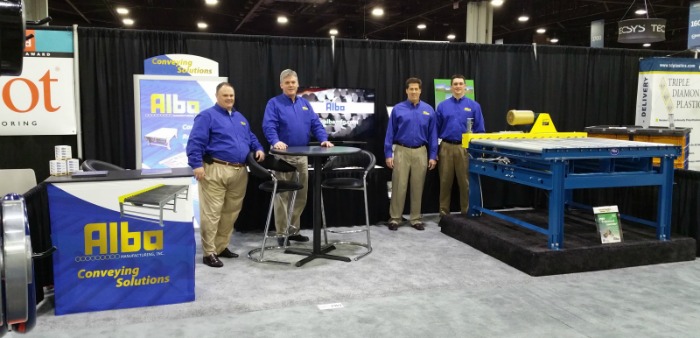 Now that MODEX is over we're back to our busy schedules. Thank you for taking the time to visit us.
We enjoyed seeing everyone and we look forward to serving you in 2016.
We'll be at ProMat 2017 in Chicago, Illinois! Hope to see you there.
Rock Solid Pallet Handling Solutions
Alba Manufacturing is a preferred pallet handling resource to the integrators, distributors and OEMs we serve. Our success in developing these relationships has given rise to the Alba Partner Network (APN). Through the APN, the marketplace is understood and satisfied through optimal designs that meet and exceed expectations for dependability and value.
An Example: An Alba integrator/distributor developed an opportunity for a multi-lane palletizing application. The Integrator's end user was in search of a well-conceived, expertly integrated pallet system. Alba Manufacturing's comprehensive offering of pre-engineered pallet handling products served as the "building blocks" to which value-adding enhancements were applied resulting in an optimal system that is effective, ergonomic, and dependable.
Design: Alba Manufacturing's use of welded structural frames and supports provide the necessary ruggedness to handle the wear and tear of typical pallet handling applications. With our pre-engineered design, we reduced the lead time for delivery in comparison to other competitive brands.
Enhancements: A cooperative effort blending Alba technical support with the integrator/distributor's expertise, insights, and recommendations produced an optimal solution to satisfy the end user's needs and expectations. The solution included
| | |
| --- | --- |
| • | Multi-tier elevations for ergonomic purposes and to interface with existing equipment; |
| • | Drop-in rollers for operator safety; |
| • | Pallet and load guides; |
| • | Operator control boxes; and |
| • | Cross-over stairs with tread-plates. |
Added value: Alba was pleased to provide the level of added value requested by our distributor. A cooperative strategy included wiring motors to a junction box and mounting and wiring photo-eyes wired to a junction box along with numerous E-stops.
Pre-engineered solutions – fast and affordable.
Alba Manufacturing. Rock Solid Solutions. Rock Solid Systems.
Expansion Update

Spring progress:
| | |
| --- | --- |
| | |
| 01-09-2016 - Steel Structure | 03-22-2016 - Excavation |
| | |
| --- | --- |
| | |
| 03-26-2016 - More Progress... | 03-31-2016 - New Enclosed Structure |
Our National Sales Representatives

Choose SIMPLE. Choose STANDARD. Choose ALBA.
Follow Us on Social Media!