Bottom-Up Pallet Jack Load Station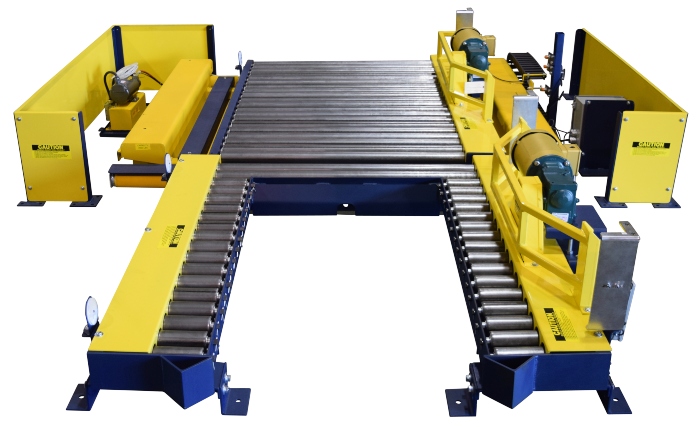 Our August Albagram involves a system expansion with one of our Alba Partner Network (APN) integrators. We provided an expansion from a set of earlier systems provided by Alba years ago.
This expansion utilized a pallet jack type load-on station for loading 2,000-lb. GMA and CHEP pallets onto a system using a standard pallet jack. The key to this operation – the end-user deposited pallets from underneath the entire pallet (which is not typical). Usually, pallet jacks carry pallets with forks between the top and bottom boards of the pallet; not under the whole pallet.
The end user's installation site – a packaging division for an international parcel and express mail courier. The first system had eight (8) load-on stations. The second system had two (2) load-on stations. This current expansion would add yet another station and more conveyor to the second system to allow more throughput and to provide a branch from the primary path to divert product to another area for pallet wrapping.
Alba designed the expansion to the original system at each end, making it fit within the parameters of the available space. We made our integrator's job easier by meeting the necessary design requirements and by pre-wiring all proximity sensors, solenoid valves, and pre-wiring back to junction boxes. Alba also provided operator pedestals with pre-mounted push button stations, necessary conveyor guide rails, tread plates between rollers, and cross over stairs for personnel access.
Specific to the pallet jack load-on station, we provided a set of two (2) conveyors. The first was a split roller CDLR (Chain Driven Live Roller) conveyor for interfacing with a pallet jack. The second was a CDLR conveyor top pre-mounted to the platform of a low-profile Southworth ZLS scissor lift.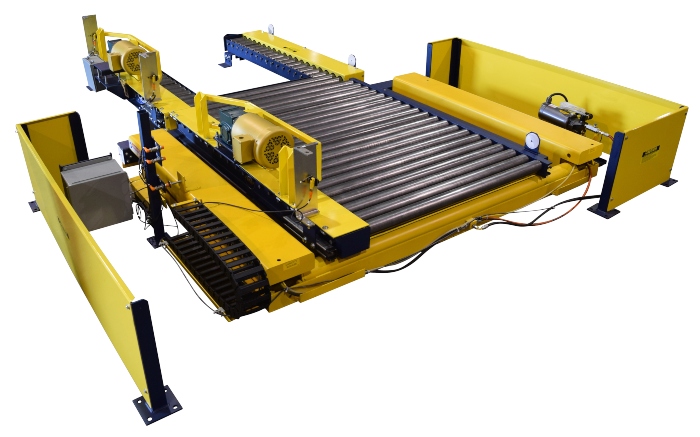 The lift conveyor was provided with an external hydraulic pump driven by an electric motor and included a 5-gallon reservoir. This load station came complete with photo-eyes, floor-mounted partitions to keep foot traffic away from the moving components, and an external proximity stand for controlling the different levels of vertical operation of the lift. The lift allowed the pallets to move from the lower elevation at pallet jack level to the higher main conveyor line elevation. The front side of the lift was outfitted with a roll-up yellow curtain to protect the front side of the lift when raised. The rest of the conveyor system protected the back side at the higher elevation.
Alba pre-wired the electric devices from the conveyor top through an energy chain (cable routing system) and terminated these devices into a floor-mounted junction box. These value-add extras provided a vast service and time savings to our integrator during field installation.
Conveyor/Product Specifications

Conveyor:

Chain Driven Live Roller Conveyor, Model 251140-3.25 (mounted to top of scissor lift)
Southworth #ZLS4-35 Low Profile Scissor Lift (base section)
Chain Driven Live Roller Conveyor, Model 251140-3.25 (split roller conveyor for pallet jack)

Frames:

5" @ 6.7 lb. Structural Channel Driven Side Frame
4" @ 5.4 lb. Structural Channel Non-driven Side Frame

Rollers:

2-1/2" Diameter x 11 Gauge on 3-1/4" Centers

Speed:

30 FPM @ 60Hz.

Effective Width:

44"

Motor:

1/2 HP Baldor Super "E" VFD-Rated Motors all CDLR Conveyors Pre-wired to Junction Box

Elevation:

7-3/4" Top of Roller (Lower Level) & 18" Top of Roller (Upper Level)

Photo Eyes:

Two (2) 24VDC Banner Retro-Reflective (#Q18VP6LPQ8) mounted to heavy duty zinc plated brackets and pre-wired to conveyor-mounted junction box. Reflector with similar bracket included and mounted.

Proximities:

Two (2) 24VDC IFM Effector (#IG7101) mounted to stand-alone vertical post and pre-wired to junction box.

Partition Guards:

Floor mounted partition guards for (3) sides of the lift stations. 18" tall, painted Safety Yellow

Paint:

Alba Dark Blue and Safety Yellow Guards
Ask Alba how we can do the same for your company or project today! Call Alba Manufacturing at 866.252.2634 or visit our website at www.albamfg.com.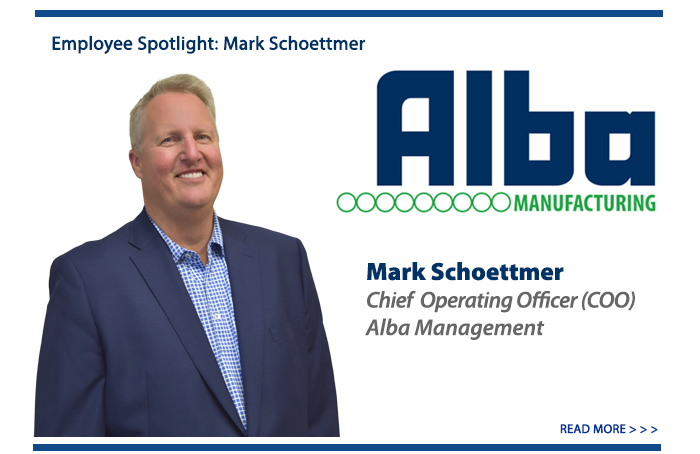 Follow Us on Social Media!