Where the Rubber Meets the Road
The products we help our partners and end users convey is virtually limitless.

As of 2019, natural rubber can be found in over 50,000 products manufactured in the U.S. Even more staggering, the United States imports over three billion pounds of natural rubber each year. Over 70% of the rubber used in modern manufacturing processes is synthetic rubber.1

This month's story features an application from one of our distributors. Their client, a manufacturer in the rubber mixing and compounding industry, creates rubber products for small goods. The products being conveyed are hard plastic 28" x 20" totes with a flat bottom, weighing 100 pounds each.

The end user has multiple SKUs of raw materials used in the rubber mixing and compounding process. These had historically been brought to the process equipment by hand due to tight spaces.
This hand delivered process was creating physical hardships, along with fatigue to the workers in the facility. Our partner was tasked with finding a solution to get these to the equipment in a safer, more productive manner, which would be less taxing on the employees.
Alba provided CDLR (Chain Driven Live Roller) Conveyor to stage several of the hard plastic totes in queue which resulted in faster production of the product and quicker turnaround to the next batch of needed raw materials.
Alba's partner was able to provide this solution so that the plant workforce could be distributed to more pressing areas of concern. The true feelings of the distributor can be summed up in their own words: "Alba has been a dream supplier by supplying timely quotes, competitive pricing, special paint colors, on time approval drawings and equipment delivery."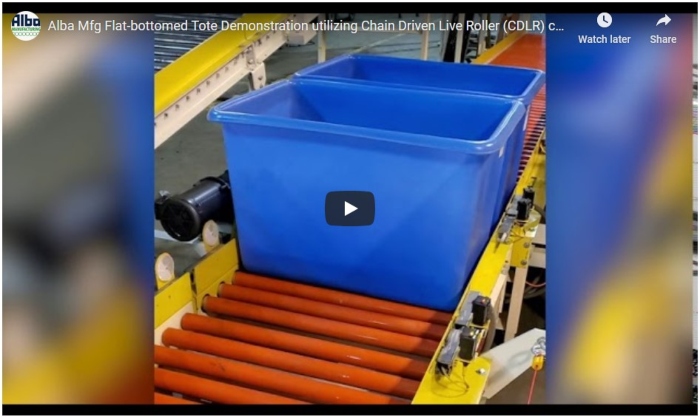 Conveyor/Product Specifications

•
Length: Ten (10) Model 191240-4 CDLR Conveyors – Seven (7) @ 4' 8" Long; Two (2) @ 3' 0" Long and One (1) @ 7' 0" Long
•
Rollers: 1.9" Diameter x 12 Gauge with 7/16" Hex Axles, Spring Retained with Two (2) #40A18 Sprockets on 4" centers with Kastalon Urethane Sleeves. These Sleeves aid in conveying the totes which have slick bottoms by providing more traction to positively move the loads. The rollers are set low in the frames.
•
Effective Width: 33" Effective Conveying Surface
•
Motor: 1/2 HP Baldor C-Frame Motor and Dodge Tigear II Reducer, 230/460/3/60 with RC-40 Drive Chain
•
Elevation: 20" and 16" Top of Roller depending upon the Area
•
Standard Items included: 5" @ 6.7 # Channel both Sides with 3" @ 4.1# Channel Welded Cross Ties
•
Paint: "Crisp Linen" with Alba's Standard RAL1018 Safety Yellow Guards

Value Added Features

•
4" High Guardrail Runs the Full Length of all Ten (10) Conveyors on Both Sides

Call us to locate your nearest Alba Partner Network Member to assist with your next project at 866.252.2634 or visit our website at www.albamfg.com.
1Article from https://sciencing.com/manufacturing-process-rubber-5206099.html
Follow Us on Social Media!