Bargains Mean Big Business
Deal hunting makes consumers feel smart and it encourages shoppers to spend money. According to a research study from Hawk Incentives, over 90% of consumers are bargain hunting. "Part of what makes hunting so engaging is the search. Finding that great camping spot or the best fishing hole makes people feel good."1 The same is true for shopping.

Bearing that in mind, in 2020 the U.S. experienced a whopping 40.3% growth in eCommerce due to COVID-19 buying shifts which added $153 billion to online retail sales.2 The intersection of these two trends is encapsulated in the application being highlighted in this month's Albagram.

The end user of this solution is one of the industry's top off-price apparel and home fashions retailer in the United States working to improve their eCommerce capabilities. Alba worked with our Systems Integrator to identify a solution to efficiently convey pallets of product from a first-floor entry point to a second-floor exit point in an effort to simplify the material handling process.
Operators needed to load and unload 2000 lb. GMA style pallets onto conveyors with either manual pallet jacks handling single pallets or electric pallet walkies with double long forks handling two pallets at a time. Due to the nature of the customer's material handling equipment, the conveyor's elevation needed to be as low as possible to minimize the approach ramp. Once introduced into the system, the pallets would traverse hundreds of feet of zoned accumulation conveyor to a vertical lift. Upon reaching the second floor, the pallets would be picked up by the same variety of material handling equipment.
| | |
| --- | --- |
| | |
At the pick-up/drop-off locations, Alba supplied its two-position, split roller pallet jack conveyor. This unit's split roller design allows electric pallet walkies and pallet jacks to drive directly onto the conveyor with casters riding on the integrated tread plates. These tread plates are set 1/4" below the roller elevation and allow the pallet jacks to enter onto the conveyor to quickly pick up or drop off its payload and clear the zone again. The independently driven, two-zone design of the pallet jack conveyor assists in separating the back-to-back pallet slug dropped by the electric pallet walkie.
The implementation of the conveyor system reduced the safety risks and the high costs associated with reliance on fork trucks. The innovative design opened floor space for additional storage capacity and substantially reduced traffic in the main aisle-ways. By locating the load zones closer to main aisles, the long run of accumulation conveyor minimized the distances operators needed to manually transport pallets and the numerous queueing positions smoothed out the product flow through the vertical lift.
Conveyor/Product Specifications

Model No. 251140-3.25 Double Long Split Roller Pallet Jack Load/Unload Conveyor

Length:
9' 9-3/4" Overall
Rollers:
Driven Rollers: 2-1/2" Diameter x 11 Gauge Wall, 11/16" Hex Axles, Spring Retained, Two (2) #40A21 Sprockets, "FR" Series Grease Packed Ball Bearings
Non-Driven Rollers: Center Section of Non-Driven, 2-1/2" Diameter x 11 Gauge Wall, 11/16" Hex Axles, Pin Retained, "FR" Series Grease Packed Ball Bearings
Effective Width:
52" Effective Conveying Surface
Motor:
Three (3), 1/2 HP, Baldor C-Frame Motor and Dodge Tigear II Gear Reducer, 230/460/3/60, RC-40 Drive Chains, High Side Mounted Drives
Elevation:
6-1/4" Top of Roller at System Infeed
Paint:
Alba Blue with Safety Yellow Chain Guards

Standard items included:

Tread Plates:
Pallet jack supporting load plates welded to conveyor frame top plate 1/4" below the top of rollers, integrated to split roller conveyor design
Drive Protection:
Drive assemblies protected by tubular welded steel frame assemblies mounted to the conveyor frame
Pallet Guide:
Funnel type pallet loading guides mounted to the top of the scalloped chain guard
Ramp:
Ramp with sides extending above surface of ramp with 0" elevation at bottom and 6" at the top with ramp to be broken into pieces for ease of handling and painted safety yellow

At Alba Manufacturing, we provide optimal solutions based on time-tested applications and expertise. Call Alba Manufacturing at 866.252.2634 or visit our website at www.albamfg.com.
1https://www.inc.com/peter-roesler/study-finds-deal-hunting-makes-consumers-feel-smart-encourages-shoppers.html
2https://www.digitalcommerce360.com/article/5-ecommerce-data-forecasts-for-2020/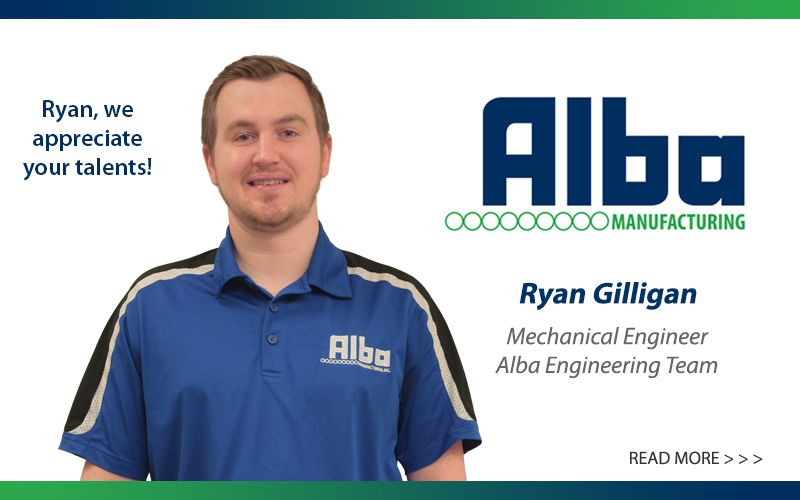 Follow Us on Social Media!