Keeping Our Focus CENTERED on Your Profitability
Nothing is more frustrating and more detrimental to the bottom line, than product damage during material handling. Alba and our integration partner encountered an interesting dilemma. A paper distributor at their wit's end had 4,000 lb. pallets of paper becoming misaligned on existing conveyor that had been previously installed.
The process started with a pallet of paper product loaded by fork truck at the conveyor's load position. Pallets should normally convey just fine down the conveyor, but it was found that damaged and/or improperly built wood pallets were entering the system. It appeared at some point that the pallet quality or construction of the pallets being used had changed with missing or uneven bottom boards causing the pallets to skew and drag along the conveyor frame.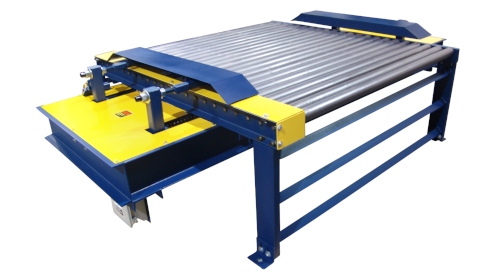 Furthermore, many of the faulty pallets would pass the end user's visual inspection, and side guides would interfere with the end-user's ability to remove pallets from the conveyors. In the end-user's eyes, regardless of the root cause, the skewing of pallets was so detrimental to the process, it warranted reaching out to a local integrator to permanently eliminate the concern.
Alba's team solved the problem by engineering and manufacturing a Chain Driven Live Roller (CDLR) conveyor with an integrated pneumatic pallet centering device. Additionally, our solution provided the paper distributor with maximum versatility by operating with multiple pallet widths.
Product

Paper product on 40" x 48" four-way entry block pallets, and 24" X 48" two-way skids with three narrow bottom boards running perpendicular to rollers, weighing up to 4,000 lbs. Both pallets styles will have product overhanging the pallet edges.

Conveyor Specifications

CDLR Conveyor

Model No. 251140-4 Chain Driven Live Roller Conveyor with Pneumatic Pallet Centering Device

Length:

5' 0" Overall Length

Rollers:

2-1/2" diameter x 11 gauge, 11/16" hex axle

Roller Centers:

4"

Effective Width:

54"

Drive:

3/4 HP Baldor Super "E" motor with a Dodge Tigear II reducer, high side drive

Elevation:

30" top of roller

Centering Device

Description:

Pallet centering is accomplished with a single cylinder mechanically linked to two side pusher bars which evenly advance toward the center of the conveyor. A pressure switch senses once the pusher bars have engaged both sides of the pallets, the resulting pressure spike pneumatically causes the cylinder and pusher bars to retract back to their home position sensed by a proximity sensor. Approximate time to center product is 10 seconds.

Frame:

Welded structural steel base frame.

Actuation:

Centering device is actuated via a single Norgren pneumatic cylinder with a chain drive linkage mechanism attached to each centering bar which allows simultaneous centering of the pallet.

Devices:

One (1) Norgren double solenoid valve mounted and piped to the cylinder. Unit includes one (1) adjustable pressure switch to sense that a product has been centered and one (1) IFM #IG7101 24VDC proximity switch.
At Alba Manufacturing, we provide rock-solid, cost-effective solutions without breaking the budget and optimizing your operation's profitability. Call us to locate your nearest Alba Partner Network Member to assist with your next project at 866.252.2634 or visit our website at www.albamfg.com
Follow Us on Social Media!