Saving Space. Reducing Costs.
With rising costs, production facilities, distribution centers and warehouses are challenged to maximize every square inch. According to Warehousing and Fulfillment, in 2017 the average cost to maintain a warehouse was $6.53 per square foot and the average starting rate for warehouse staff was $11.44 per hour. Costs add up quickly.
Just-in-time (JIT) production, also known as lean manufacturing or lean production, means the bottom line demands improved production efficiency and competitiveness. JIT allows this to happen by preventing over-production, minimizing wait times and warehouse costs, saving resources by streamlining production, decreasing product defects and reducing capital tied up in excessive stock.
Recently, Alba worked closely with a distributor to help address these issues and create a better solution for their end user by installing over/under conveyors which saved more floor space versus side-by-side conveyors.
The primary benefit of over/under conveyors: compact in size, handling empty and full pallets in one footprint. Over/under systems are often used for robotic palletizing or de-palletizing of empty and full pallets, respectively. They are also used for empty pallet return lines after full pallets are delivered to their destination, they recirculate the empties back to the beginning of system or typically an empty pallet stacker (which Alba also manufactures).
An Alba distributor was integrating several conveyors to handle an empty pallet infeed and a full pallet take away within a series of simple robotic pallet build cells. These cells were palletizing product for a food distributor at ambient temperature. The system sequenced an empty pallet on the lower level conveyor and utilized a scissors lift conveyor unit to lift the palletized load once the robot operations were complete. The lift conveyor then transferred the load onto the upper level full pallet conveyor for take away via fork trucks.
Solutions
Alba provided a structural steel, fully welded conveyor design at a price below the "bolt-together construction" price. Alba's rugged construction holds up to the toughest demand and rigors of fork truck abuse and daily throughput requirements especially at the two-tiered conveyor height utilized in an over/under conveyor system.
Stability was at the forefront. Alba's rigid and durable conveyor construction was key to providing the end user with a rock-solid conveyor design. Since there were multiple sets of these conveyor cells, the customer was even more conscious of using a strong design to achieve a successful result that performed time and time again.
Conveyor Specifications

•
Handling 48" Wide Leading x 40" Long GMA Pallets
•
Maximum Unit Load is 2,000 lbs.
•
45 FPM, Fixed
•
Baldor Motors and Tigear II Reducers
•
4" Rollers Centers
•
18" Top of Roller (Lower Level Elevation)
•
36" Top of Roller (Upper Level Elevation)
•
Hydraulic Scissor Lift with 3.2 HP Motor
Let us know what we can do to help with your material handling needs! Alba takes pride in going that extra mile to see our Partner Network succeed. Whether you have a simple system as described above or a layout full of challenges, Alba is here to help. Call us today and speak with a knowledgeable member of our sales team who can help you solve your material handling issues. Call us at 866.252.2634 or visit our website at www.albamfg.com. We can help.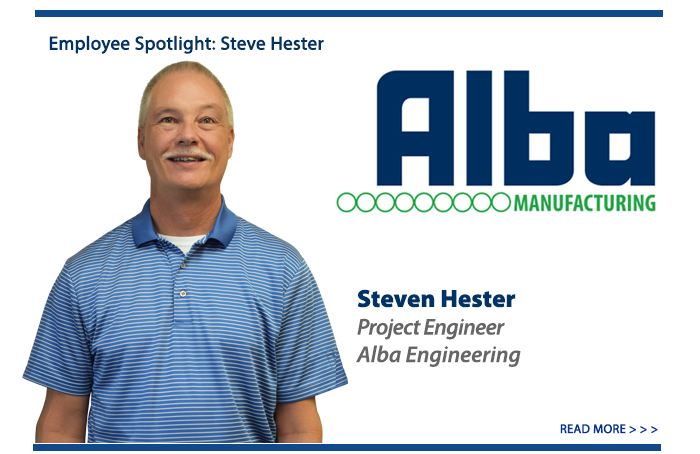 Follow Us on Social Media!