Reducing the Cost of Doing Business
Our partner's client is a private contractor for a machine tending project. "What's machine tending?" you ask. "Machine tending" is a process which utilizes robotics to introduce raw parts to a pre-programmed machine, removes the part once the process is complete and then introduces the next part to continue the cycle.

In the market place, machine tending constitutes the largest use of collaborative robots, also known as cobots. These are robots that can be used without machine guarding or without including other safety features. Cobots can be placed beside a machine or a person and set to perform a specific task without needing to be fenced off from the surrounding environment. Generally speaking, robots fulfill three goals: expand production, handle higher-value tasks and ensure safety.

In this particular application, our product consisted of 32" x 48" steel containers, each weighing 6,300 lbs. The steel pallets, utilized in a captive system, have a "picture frame" bottom runner configuration.



The replacement cost can range anywhere from hundreds to thousands of dollars for custom-engineered pallets. Many operations require multiple pallets to be on hand and used in the process in a 24/7 manufacturing environment. If these custom-engineered pallets become lost, damaged or "taken," the cost can become exorbitant for the end-user as production comes to a halt.
Alba and our partner needed to provide a solution to help reduce double handling of pallets; which ultimately, resulted in overuse and abuse. The end-user, caught in a vicious cycle, had to regularly purchase new and expensive tubular steel pallets since the heavy loads were taking their toll.

Alba and our partner provided a solution consisting of a robotic system to empty the containers and two (2) frame-to-frame transfers. This solution allowed the end-user to keep rotating and to utilize their tubular steel pallets more efficiently and effectively.

By rotating the pallets and keeping them within the system, we helped the end-user save valuable "cost of doing business" dollars and reallocate those dollars to other areas of concern within their plant. With the new system in place, tens of thousands of dollars could potentially be saved and re-allocated.

At Alba Manufacturing, we provide optimal solutions based on time-tested applications and expertise. Call Alba Manufacturing at 866.252.2634 or visit our website at www.albamfg.com.
Conveyor/Product Specifications

Frame-to-Frame Transfers:

Model FFT353060-6-2S

Length:

Transfer CDLR length of 5'-9" with a Centerline of 3'-6" Centerline to Centerline of the Two (2) CDLRs (Chain Driven Live Roller Conveyors).

Rollers:

3-1/2" Diameter x .300 Wall Thickness with 1-1/16" Hex Axles

Effective Width:

38"

Motor:

1 HP, for the CDLR and a 1 HP, Center Type, for the transfer, Baldor Super "E" with a Dodge Tigear II Reducer

Elevation:

16-1/4" to the Top of Roller

Paint:

Alba Dark Blue and Safety Yellow Guards

Standard items included:

Two (2) Strands of RC-80 Roller Chain on 31-1/2" Centers

Value-Added Features:

Floor Mounted Backstop, Safety Yellow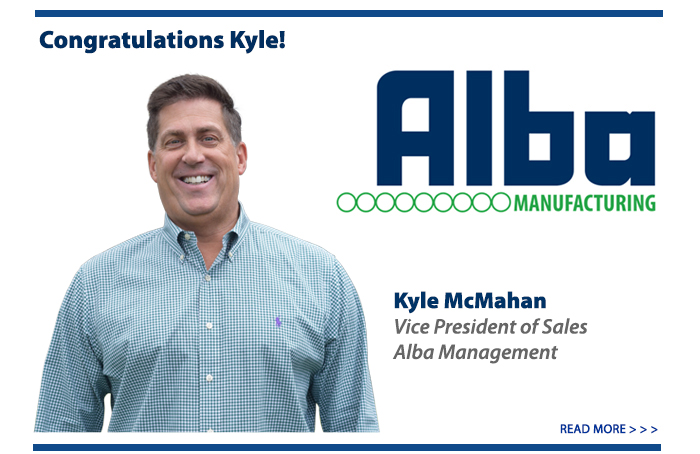 Follow Us on Social Media!