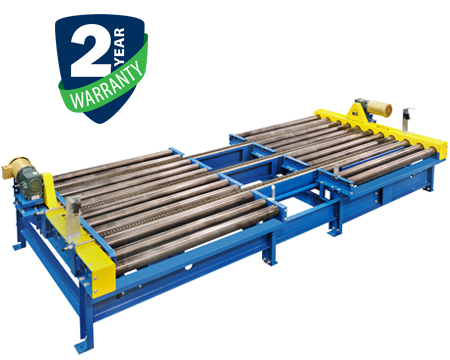 Frame-to-frame or FTF chain transfer applications the transfer chains are mounted within the effective width of the two parallel CDLR conveyor frames. This configuration is ideal when transferring containers and palletized products at 90-degree angles and have a maximum capacity up to 4,000 lbs.
Our transfers, like all our conveyor come standard with a two-year warranty. Frame-to-frame type transfers are generally shipped fully assembled for easy installation and they are fully tested prior to shipment. Plus, they can be equipped with many optional items.
Product Features
Mounting: For Use with Chain Drive Live Roller Conveyor or Free Standing
Frame-to-Frame Type: Where Transfer is Mounted within Two (2) Parallel Conveyor Frames
Load Capacity: Up to 4000 Lbs.
Contact us for additional information.
Note: Specifications vary by model. Call for More Details.
Standard Features
Two (2) Year Warranty
Welded, Structural Steel Frame Construction
Drives Sized to Match Loads by Factory
230-460/3/60 Primary Voltage
High Side, Low Side and Underslung Drive Mounting
30, 45 and 60 FPM Fixed Conveyor Speed
Continuously Welded Sprockets
Rollers Set High or Low on Non-Driven Side
Scalloped Type Roller Chain Guard #10 Gauge and #16 Gauge Drive Chain Guard
Adjustable Heavy Duty Channel Supports
RC-60 or RC-80 Transfer Chains
Four Point Positive Lift via Pneumatic Cylinder
24 VDC Double Acting Solenoid Valve Plumbed and Mounted to Conveyor Frame
Chain Elevation 3/4" Above Rollers when Raised
Painted Alba Blue with Safety Yellow Guards
Shipped Fully Assembled for Easy Installation
Conveyors Fully Tested Prior to Shipment
Optional Items
Polyurethane Roller Covering
Zinc Plated & Galvanized Rollers
Blade Stops/Pin Stops
Photo Eyes & Pre-Wired Devices
Back Stops/Conveyor Guides
Fork Truck Barriers
Transition Rollers
Proximity Switches to Sense Raised & Lowered Transfer Positions
Filter/Regulator with Gauge
Variable Frequency Drive (VFD) Rated Motors
Hot Dipped Galvanized Frames
Color Match Paint to Specifications
Have Questions about our Chain Transfers?