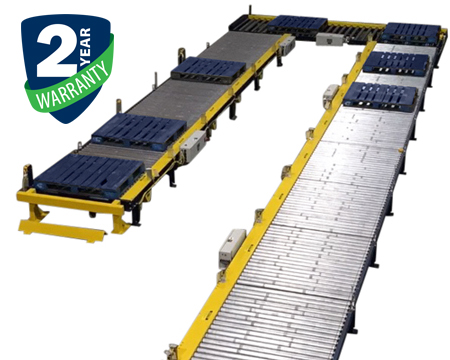 Utilizing motorized zero pressure accumulation (MZPA) conveyor in manufacturing or distribution operations assists in transporting and accumulating pallets so they systematically feed into various processes such as sorting, wrapping, palletizing and strapping.
Alba's MZPA conveyor can be designed to handle a wide range of product sizes and weights. Our MZPA is supplied with "plug-and-play" cabling capabilities which reduces installation time and maintenance.
To make life easier for customers, we don't use any proprietary programming and components. All of the control components are commercially available, standard, off-the-shelf items that can be serviced by any Allen Bradley Distributor around the globe. Another great benefit with MZPA is that it is easily expandable – adding conveyors, devices with free Allen Bradley software.
Quick Features
Standard Motor Driven Zero Pressure Accumulation
Available on all CDLR Units with 1.9" Diameter to 3-1/2″ Diameter Rollers
Contact us for additional information.
Product Features
Length: Standard 5′ Zones (Other Zone Lengths are Available)
Width: 20″ to 60″ Effective Widths
Accumulation: Each Zone Independently Motor Driven with Electronic Zone Control
Drive Capacity: Up to 6000 Lbs (Varies by Roller Size)
Rollers: Varies by Model
Supports: Floor Supports Available on All Models to Meet Required Elevations
Note: Specifications vary by model. Call for More Details.
MZPA Conveyor Video
Control Features
Two (2) Year Warranty
Allen Bradley Micro PLC Controlled System
Pre-programmed and Factory Tested Prior to Shipment
Expandable
Add Conveyors and Devices
Free Software
Program using Rockwell Automation's Connected Components
Workbench Software Downloadable from Allen Bradley Website
Software Allows Flexibility without Expensive Technical Support
Easy to Program
Standard USB Programming Connectivity
Standard MODBUS Communication
Optional Ethernet Capability Allows for Communication with Other Systems
Plug and Play Cabling Configuration
Reduces Installation Time and Maintenance
No Proprietary Components
Commercially Available Off-the-Shelf Components
Parts and Service Available Globally from any Allen Bradley Distributor
24VDC Control Voltage
Have Questions about our Zero Pressure Accumulation Conveyor?