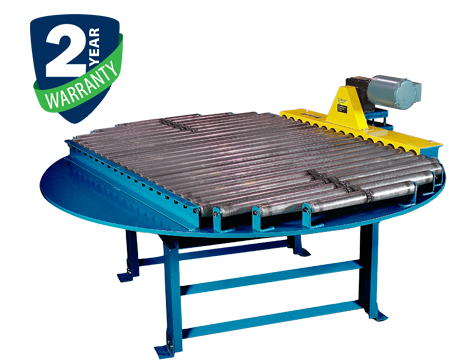 Unlike other conveyor manufacturers, Alba provides pre-engineered turntables. Our standard turntable diameters range in various increments from 72″ to 82″. Depending on your load size and weight requirements, our standard effective widths range from 44″ to 60″.
Available with either a pneumatic rotation design to provide 90° rotation or our electric rotation design to provide 90°, 180°, 270° or continuous rotation with a 4,000 lbs. maximum, centered load capacity. Conveyor speeds are standard at 30, 45, or 60 FPM.
Like all Alba conveyor, our turntables are supplied with a standard two-year warranty. For easier installation, our units come pre-tested and ship fully assembled.
Quick Features
Table Diameters: 72", 75″, 78", 82", 84″, 86" and 92"
Roller Centers: 2.75", 3.25", 3.75", 4", 4.5" and 6"
RC-40 or RC-60 Chain
Effective Widths: Range from 44" to 86"
Contact us for additional information.
Product Features
Width: 48″ to 60″ Effective Widths on Roller Deck
Rotation: 90°, 180°, 270° or Continuous Rotation
Load Capacity: 4,000 lbs. Maximum Capacity with Centered Load
Note: Specifications vary by model. Call for More Details.
Standard Features
Two (2) Year Warranty
Welded, Structural Steel Frame Construction
230-460/3/60 Primary Voltage
High Side CDLR Drive Mounting
30, 45 and 60 FPM Fixed Conveyor Speed
Scalloped Type Roller Chain Guard #10 Gauge and #16 Gauge Drive Chain Guard
Units Typically Shipped Fully Assembled to Minimize Installation Time
Conveyors Fully Tested Prior to Shipment
Pneumatic or Electric Base
Have Questions about our Turntables?