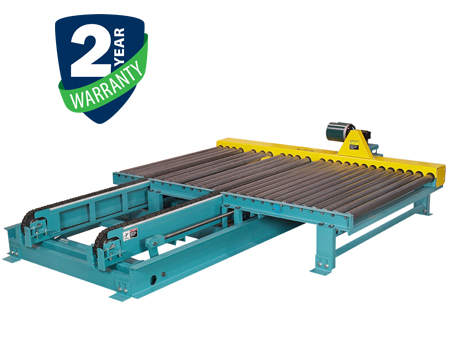 Through-frame or TF type chain transfers means the transfer chain rails extend beyond the non-driven side of the CDLR frame. Load capacities are up to 4,000 lbs. with welded structural steel frames. Through-frame type chain transfers are available at 30, 45, and 60 FPM fixed conveyor speeds. Available with RC-60 or RC-80 transfer chains, the frame consist of heavy-duty welded structural steel and adjustable, heavy-duty channel supports provide maximum durability.
Like all our conveyor models, the through-frame type chain transfers have a standard two-year warranty.
Product Features
Mounting: For Use with Chain Driven Live Roller Conveyor
In-Frame Type: Where Transfer is Contained within the Conveyor Frames
Load Capacity: Up to 4000 Lbs.
Contact us for additional information.
Note: Specifications vary by model. Call for More Details.
Standard Features
Two (2) Year Warranty
Welded, Structural Steel Frame Construction
Drives Sized to Match Loads by Factory
230-460/3/60 Primary Voltage
High Side, Low Side and Underslung Drive Mounting
30, 45 and 60 FPM Fixed Conveyor Speed
Continuously Welded Sprockets
Rollers Set High or Low on Non-Driven Side
Scalloped Type Roller Chain Guard #10 Gauge and #16 Gauge Drive Chain Guard
Adjustable Heavy Duty Channel Supports
RC-60 or RC-80 Transfer Chains
Four Point Positive Lift via Pneumatic Cylinder
24 VDC Double Acting Solenoid Valve Plumbed and Mounted to Conveyor Frame
Chain Elevation 3/4" Above Rollers when Raised
Painted Alba Blue with Safety Yellow Guards
Shipped Fully Assembled for Easy Installation
Conveyors Fully Tested Prior to Shipment
Optional Items
Polyurethane Roller Covering
Zinc Plated & Galvanized Rollers
Blade Stops/Pin Stops
Photo Eyes & Pre-Wired Devices
Back Stops/Conveyor Guides
Fork Truck Barriers
Transition Rollers
Proximity Switches to Sense Raised & Lowered Transfer Positions
Filter/Regulator with Gauge
Variable Frequency Drive (VFD) Rated Motors
Hot Dipped Galvanized Frames
Color Match Paint to Specifications
Have Questions about our Chain Transfers?