Much like boxing or wrestling, with varying weight classes, Alba has the capability to produce products that handle different product loads. Sometimes, we hear statements like "Oh, I thought you only built heavy-duty conveyor," or "We didn't know you can handle light weight applications."
This month's article features two CDLR conveyors designed for two completely different applications.
Application #1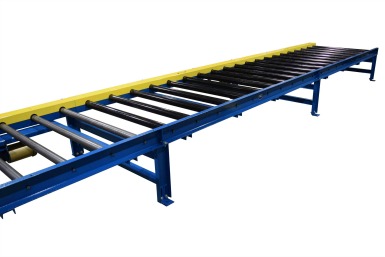 Product information: 40″ x 48″ empty CHEP pallets weighing 55 lbs. each
An Alba Partner, a systems integrator, builds high speed pallet repair systems to bring CHEP pallets back to like new condition. The conveyor that they asked us to build needed to run at 120 FPM maximum (extremely fast for pallet conveyor) and required a portion of the conveyor to be equipped with Ultrex slip sleeves on the rollers so that they could accumulate pallets on the conveyor. Because we were conveying empty pallets, the roller centers were much wider than what would normally be used for full pallet loads. The rollers were located on 12" centers. The total load weight on the entire conveyor was 440 pounds.
Conveyor Specifications:
40 ft. Long
52″ Effective Width
2-1/2″ x 11 Gauge Rollers with Precision ABEC-1 Bearings
No. 60 Chain
20 ft. of Steel Rollers and 20 ft. of Rollers with Ultrex Slip Sleeves
120 FPM (Feet Per Minute) Maximum Speed
1 HP Super "E" Inverter Duty Motor
28″ Top of Roller
Application #2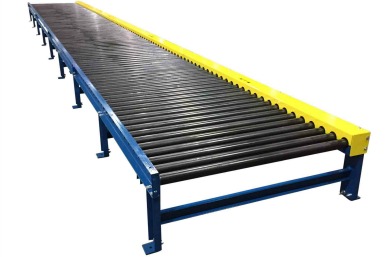 Product information: 48″ x 48″ Concrete/Fiberglass electrical enclosures, 1,300 pounds each, six enclosures on the conveyor at the same time.
One of our distributors and partner network member, required a conveyor (for his client) that would be utilized to assemble electrical enclosures as they moved down the line. The end-user needed to work on six units at a time; as a result, the conveyor was rated for 8,000 pounds spread evenly over 39 feet with a single motor. Due to the heavier loads, the roller centers were closer together to accommodate the weight and sufficiently support the enclosure bottoms.
Conveyor Specifications:
39 ft. Long
52″ Effective Width
2-9/16″ x 7 Gauge Rollers (Heavier Tube Wall Due to Shock Loading)
No. 60 Chain
30 FPM Maximum Speed
1 HP Super "E" Inverter Duty Motor
20″ Top of Roller
At Alba, our corporate culture is infused with an unrelenting dedication to our Partner Network Members and their end users. As such, it's worth noting that Alba has realized a 35% increase in manufacturing capacity, storage space, stock and components – all of which has translated to better products and faster deliveries over the past few years.
By advancing, investing, and dedicating ourselves to the future, we have taken affirmative action to secure your future growth and development. Call Alba Manufacturing today at 866.252.2634 to see how we can help the distribution of your product.