As part of our year-long 50th anniversary celebration, Alba Manufacturing held a celebration luncheon this spring for all our team members. After a presentation by Alba president Mike Kroeger, team members enjoyed a buffet from City Barbeque and a celebration cake.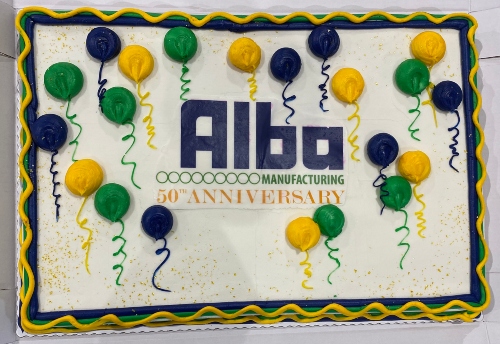 A special thank you to our team members for your hard work and dedication. This is what makes Alba a success!
The Early Years
Alba Manufacturing incorporated in February 1973. Initially a small machine shop, smaller than Alba's current office space, Norman Inderhees purchased the original Alba facility located in Oxford, Ohio to become a regional manufacturer of custom conveyors and equipment.
Alba has evolved over its 50-year history from a manufacturer of custom designed conveyors to well-known brand name of quality material handling equipment across the country.
Originally selling custom conveyors and equipment direct to customers within a 50-mile radius. Today, Alba sells and manufacturers a complete line of standard conveyors to distributors, integrators and OEMs across the United States, Canada and Mexico.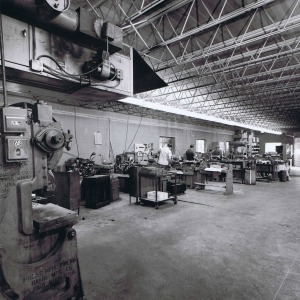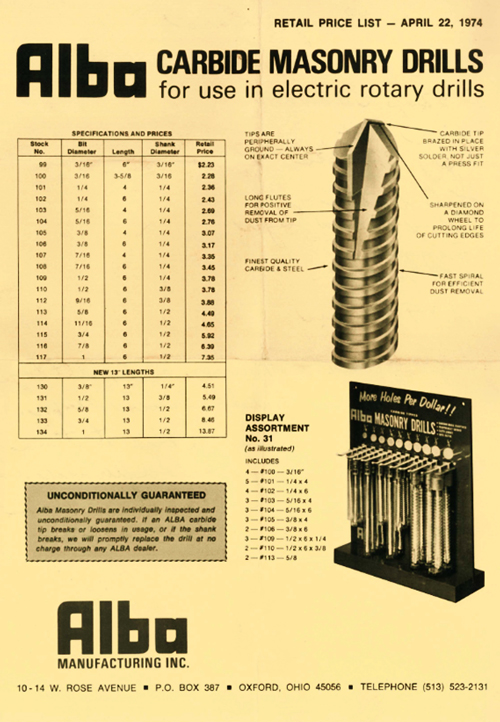 Alba's previous owner, specialized in making carbide masonry drills. We chuckle. As we've moved to various locations, we still manage to keep finding a box or two of leftover masonry drills.
Early Advertisements
Early Facility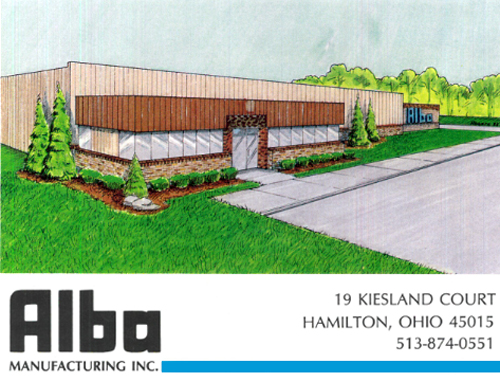 In 1978, Tom Inderhees (Norman Inderhees' son) became president. Alba added additional material handling products to become a full-service material handling solutions provider. In 1984 and 1989, Alba moved to larger facilities in Hamilton, Ohio expanding the latter in 1995.
Under the direction of Tom Inderhees, the demand for Alba's products grew. In 2001, Alba moved to their current location, a 67,000 square foot state-of-the-art manufacturing facility in Fairfield, Ohio. Due to their reputation for product excellence, Alba completed a 21,000 square foot addition in 2016 – installing more hi-tech, automated equipment to facilitate production and accommodate continued growth.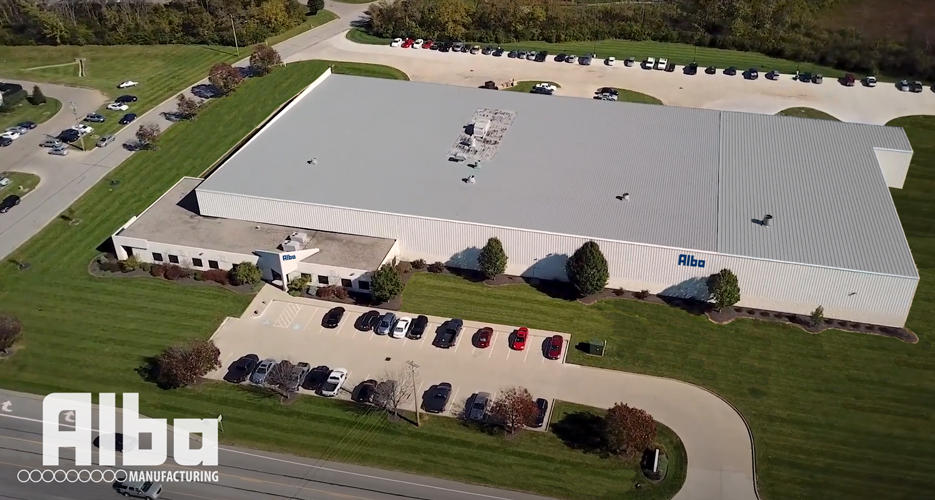 Today…
Product end users consist of Fortune 100 companies located throughout North America. Industries and distribution include automation, aerospace, appliance, automotive, beverage, castings, chemicals, dairy, distribution, food, forgings, foundry, manufacturing, materials processing, palletizing/wrapping, paper, recycling, retail, and warehousing.
The corporate office and manufacturing facility is located in Fairfield, Ohio, approximately 30 minutes north of Cincinnati. For more information please call 513.874.0551 (toll-free 866.252.2634), email RockSolidConveyor@albamfg.com or visit the website at www.albamfg.com.