This case study is compliments of Aloi Materials Handling and Automation. Aloi, one of Alba's System Integrators, established in 1977, has six locations including their Corporate Headquarters in Rochester, New York.
The end user is a worldwide distributor of refrigerants for automotive, residential, commercial, industrial air conditioning, and cold storage refrigeration applications. They package and distribute pure refrigerants.
Problem
In this application, the end user was bringing a new plant expansion online and needed to robotically palletize cases of refrigerant for distribution.
Solution
Operation Sequence
The system begins with dispensing 40″ x 48″ GMA pallets one at a time from an Alba Pallet Dispenser. The pallets are picked up robotically and placed on one of four palletizing lanes of Alba CDLR Conveyor. Individual cases are brought to the robot on case conveyor (by others).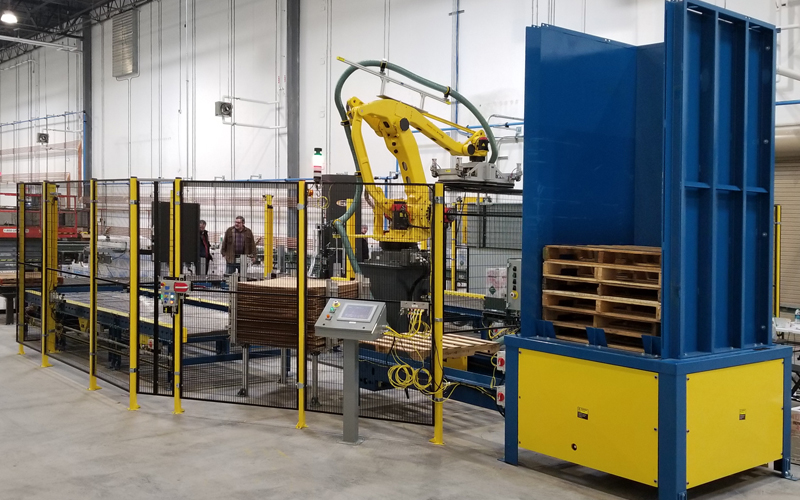 Once the product is palletized, the 2,000-lb., fully loaded pallets of refrigerant are conveyed to the end of the lane where a series of Thru-Frame and Thru-Drive Side (through the chain box) style transfers convey pallets across the line over to the end of the last lane. The pallets are then stretch wrapped. Wrapped pallets are then picked up by fork trucks for delivery to the shipping or loading docks.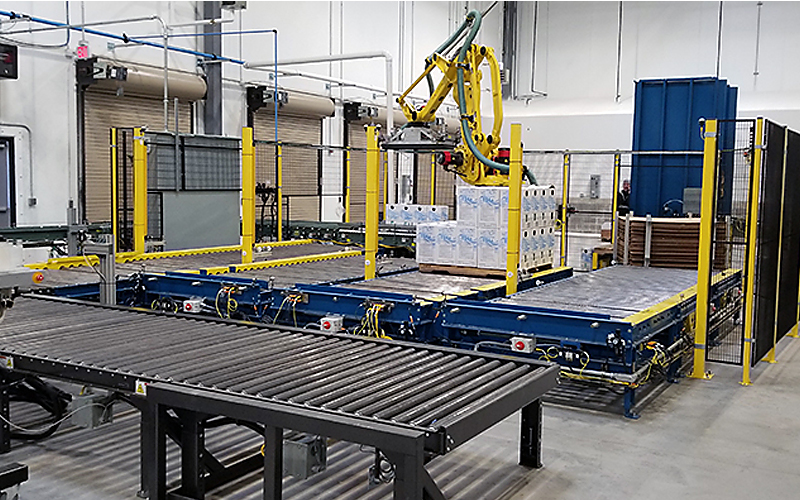 Result
Increased efficiency for the customer and, more important, increased worker safety.
Conveyor/Product Specifications
Conveyor Types: Chain Driven Live Roller Conveyor, Model 251140-4 Thru-Frame Transfer, Model TFT251140-4-3S Thru-Drive Side Transfer, Model TDST/TFT251140-4-3S and Pallet Dispenser, Loading is 90° from discharge conveyor, via fork truck (15 pallets at a time). Dispenser includes a Dual Strand Chain Conveyor – RC-80 Chain located internal to dispenser and extends 7'- 0" outside machine. Electrically driven hydraulic 460/3/60 (self-contained) 1 HP scissor lift table in area of magazine.
Frames: 6″ @ 8.2 lb. Structural Channel Driven Side Frame 4″ @ 5.4 lb. Structural Channel Non-Driven Side Frame
Rollers: 2-1/2″ x 11 Gauge on 4" Centers
Chains: RC80 Chain on 18" Rail Centers
Lift: Positive type using a Norgren Pneumatic Cylinder and Cam Rollers to raise and lower the Transfer Rails
Effective Width: 52″
Motor: 1/2 HP Baldor Motor for all CDLR Conveyors 3/4 HP Baldor Motor for all Chain Conveyors (except dispenser chain conveyor which handles empty pallet only is 1/2 HP)
Elevation: 24″ Top of Roller
Paint: Alba Blue
About Us
Alba Manufacturing, established in 1973, engineers and designs heavy-duty roller conveyor systems. Our systems consist of chain driven live roller (CDLR), zero pressure accumulation, drag chain, gravity, lift and rotate, pallet stackers and dispensers, turntables, chain transfers and transfer cars. Our corporate office and manufacturing facility is located in Fairfield, Ohio, approximately 30 minutes north of Cincinnati, Ohio.
For more information regarding this application/solution, please contact us via phone at 866.252.2634; via web at www.albamfg.com or via email at RockSolidConveyor@albamfg.com.