Innovative Conveyor Concepts Inc., an Alba Partner Network member in Grand Prairie, Texas, worked with a local manufacturer of spooled wire to provide pallet stretch wrap lines with quality control (QC) inspection stations and a rework line.
The pallets (weighing up to 4,000 pounds) are loaded via forklift on the infeed conveyor with pallet loading guides. Pallets travel down the CDLR conveyor to a pair of QC turntables that allow the operators to rotate the pallets 360 degrees and beyond for inspection.
Once QC is complete, the turntable returns to the home position and discharges the pallet to either stretch wrapping or a rework line. Pallets are wrapped both vertically and horizontally and accumulate at the discharge end for forklift removal.
The CDLR conveyors and turntables are controlled with variable frequency drives with EtherNet/IP to accommodate gentle handling prior to stretch wrapping. An intuitive user interface allows the operator greater flexibility for both automated manufacturing and distribution applications. Panel and controls were supplied by Innovative Conveyor Concepts.
By integrating Alba heavy-duty CDLR conveyor and turntables in the configuration shown, the manufacturer gained efficiency and throughput. Quality control was enhanced, and operators experienced increased ergonomics and safety. With inspections now in-line, defects can be easily identified and rerouted for corrective action ensuring product quality and safety before shipping.
Alba's heavy-duty pallet handling conveyor integrates perfectly with most automated wrapping applications.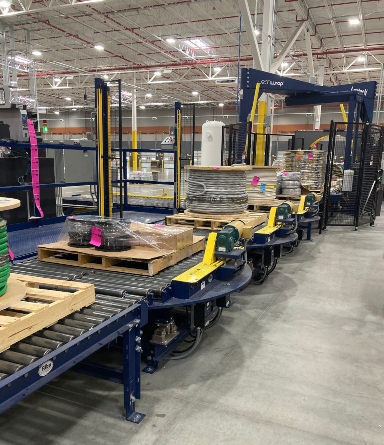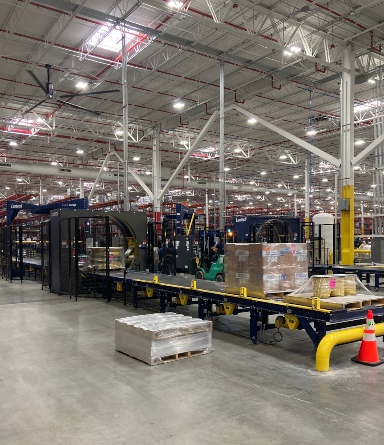 Product Specifications
Model No. 29740-3.25
Product Type: Thirty-Eight (38) 4′ 11-1/4″ CDLR Conveyors, Six (6) 84″ Diameter Turntables (Four (4) with Slip Rings for 360° Rotation)
Rollers: 2-9/16″ dia. x 7 ga. Rollers with "FR" Series Bearings
Effective Width: 54″
Motor: 1 HP Baldor Super "E" Motors
Elevation: 28″ Top of Roller
Paint: Alba Blue with Safety Yellow Guards
Standard Items Included: Conveyor-Mounted Transition Rollers and Floor Mounted Transition Roller Stands.
Value-Added Features
Fork Truck Barriers, End Stops with Fork Truck Cutouts, and Fork Truck Pallet Loading Guides.
About Us
Alba Manufacturing, established in 1973, engineers and designs heavy-duty roller conveyor systems. Our systems consist of chain driven live roller (CDLR), zero pressure accumulation, drag chain, gravity, lift and rotate, pallet stackers and dispensers, turntables, chain transfers and transfer cars. Our corporate office and manufacturing facility is located in Fairfield, Ohio, approximately 30 minutes north of Cincinnati, Ohio.
For more information regarding this application/solution, please contact us via phone at 866.252.2634; via web at www.albamfg.com or via email at RockSolidConveyor@albamfg.com.