A common tradition in the U.S. is sending greeting cards. Did you know that 10 million cards are sent at Thanksgiving, 20 million at Halloween and 1.5 billion at Christmas?1
So how does that relate to Alba? We helped one of America's major greeting card and gift-wrapping paper manufacturers improve their operations by working with one of the elite system integrators in the nation.
Problem
The old conveyor was outdated, and it needed to be replaced. Yet Alba needed to provide a cost-effective solution to accumulate pallets on long runs of conveyor.
Solution
MZPA (Motorized Zero Pressure Accumulation) conveyor. On this project, we provided new conveyor to replace old conveyor while keeping the end user's existing leg support structure.
Project Specifics
Utilized Existing Support Structure
Since we were not providing supports for this project and the customer was re-installing our conveyor on the existing support structure, Alba designed the welded conveyor crossties to be recessed up above the bottom of the conveyor frame so that no interferences would exist with the support structure and our conveyor frame. Doing this, gave a 5-1/4″ low profile top of roller height.
Standard CHEP Pallets
We were handling 48" wide x 40" long CHEP pallets weighing 1,900-lbs. max at fixed conveyor speeds of 30 FPM.
MZPA
293′-0″ length of conveyor was supplied consisting of (60) zones of various lengths ranging from 4'-6" long to 7'-6" long zones. Each zone was individually motor driven with a 1/2 HP Baldor fixed speed motor and Tigear II gear reducer, 460V/3/60Hz, high side mounted drive.
Value-Added Features
Conveyor was provided with pre-mounted and wired 24VDC Banner retro-reflective photo-eyes with QD (quick disconnect) cables. Since this system had (20) pick-up stations which provided fork trucks the ability to pick off loads at (20) different locations from the side of the conveyor, Alba also provided (20) ultrasonic photo-eyes for fork truck detection. Alba used these sensors within the logic to make a way to accumulate loads while fork trucks were unloading the conveyor from various locations.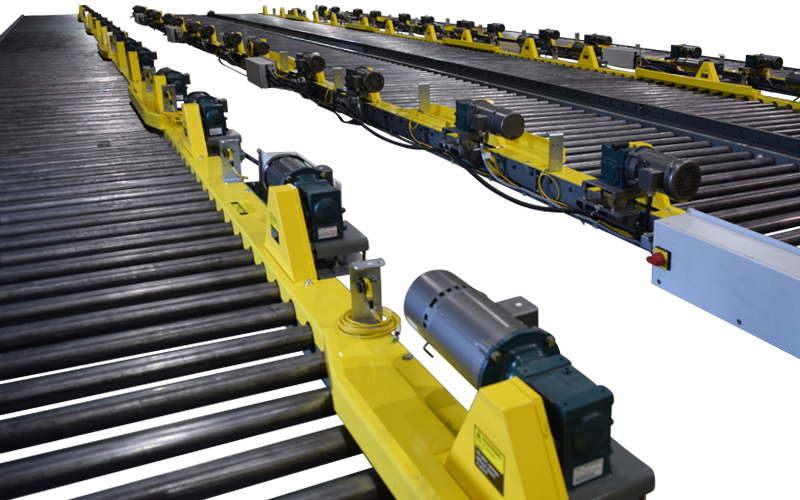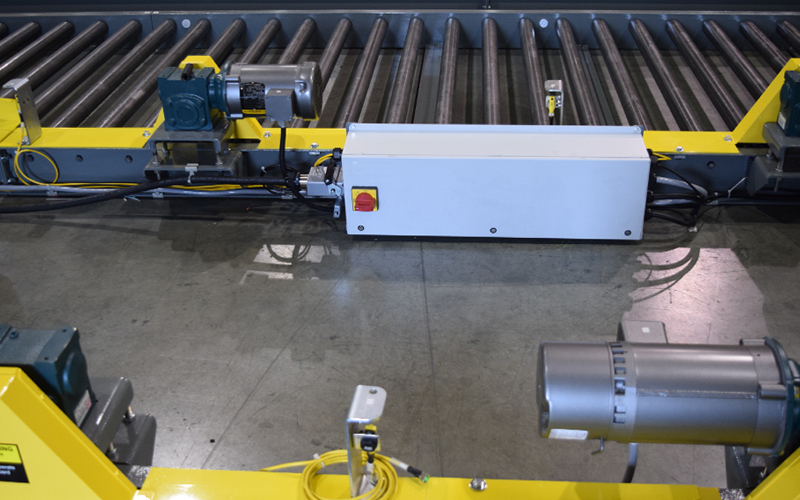 Advantages
Significantly less electrical installation time and cost. Make power drop(s) and connect all QD cables and the system is ready to run.
Non-contact accumulation of pallets with virtually limitless number of zones.
Conveyor mounted on-board control panels.
Flexible pre-installed programming that can be changed in the field after shipment, if needed.
Uses Rockwell Automation's Connected Components Workbench free software. No need for specialized or expensive programming software.
Uses true PLC logic and circuitry using a A.B. Micro 830 PLC instead of pre-printed non-programmable circuit board logic.
The next time you have an application requiring long runs and your customer needs affordability, call Alba for the best – our MZPA (Motorized Zero Pressure Accumulation) conveyor. Call us to locate your nearest Alba Partner Network Member to assist with your next project at 866.252.2634 or visit our website at www.albamfg.com.
About Us
Alba Manufacturing, established in 1973, engineers and designs heavy-duty roller conveyor systems. Our systems consist of chain driven live roller (CDLR), zero pressure accumulation, drag chain, gravity, lift and rotate, pallet stackers and dispensers, turntables, chain transfers and transfer cars. Our corporate office and manufacturing facility is located in Fairfield, Ohio, approximately 30 minutes north of Cincinnati, Ohio.
For more information regarding this application/solution, please contact us via phone at 866.252.2634; via web at www.albamfg.com or via email at RockSolidConveyor@albamfg.com.
1Article from Statistic Brain – Hallmark Card Statistics