July officially ushers in summer with fireworks and festivities. What's summer without picnics, barbecues, swimming pools and what else? Freeze pops! Statistics show that ice cream and frozen novelties had a combined sales of over $2.75 billion in 2018, making it the largest frozen food category.1 With over 2 billion freeze pops sold each year2, no matter how or when they're served, one thing is for sure, our sweet tooth looks to these desserts to indulge and satisfy our craving!
The Backstory
This case study features a conveyor system for automatic palletizing of cases of freeze pops for a food producer that makes whipped cream, flavored drinks, and bottled water as well. This producer currently manually palletizes 40-lb. boxes on pallets and manually inserts tie sheets on upper layers to grip and help stabilize the loads traveling downstream.
As the production volume increased, this producer did not want to continue to manually palletize and lift these cases by hand anymore. This end user partnered with our customer which is an automation company called ABCO Automation to bring their process up-to-date with best practices and to help their volume go up and their handling time to go down. Alba Manufacturing and ABCO Automation were founded at nearly the same time and both companies have been in business for over 40 years.
Alba and ABCO share the same Core Values which are:
Our clients' needs drive our business.
We do the right thing, the right way – integrity and quality in everything.
We absolutely stand behind our work!
The Application
ABCO, our Alba integration partner, first reached out to Alba to provide an automatic way to dispense 40″ x 48″ GMA pallets for palletizing. They also needed a means of conveying the empty pallets downstream to be palletized with cases robotically. They needed a line of conveyors that could work within their robotic cell and with their 45″ wide roll sheeter which fed, cut, and applied a coated sheet to the loads.
The Solution
Alba provided drawings in SolidWorks 3D CAD files so ABCO could send all designs in 3D to the end user. A standard pallet dispenser, without controls to dispense a stack of empty wooden pallets, was supplied by Alba.
We also provided and pre-wired all devices for the dispenser to a junction box. The customer outfitted the dispenser with a control panel to control all the devices and motions within the unit. Alba also provided a series of CDLR (Chain Driven Live Roller) conveyors which transported the empty pallets to the robot to palletize cases, through the roll sheeter to have the tie sheets applied by the robot, and ultimately through the cell to be picked up by fork truck for further processing.
Alba worked with ABCO to design a system that was flexible. We supplied a larger (over-sized) junction box for the dispenser so that the customer could mount their motor starters in the box once this system shipped to their facility.
Testimonial
ABCO complimented us by saying "I wanted to tell you how impressed we are by the Alba Manufacturing equipment we have purchased for our automation project. The quality of workmanship and robustness of your equipment is outstanding. Coupled with the customer service and available CAD models in a very timely manner has contributed to the overall success of this project. I am looking forward to working with Alba again for my pallet handling and transporting solutions on our future custom automation projects."
– Senior Mechanical Engineer for this Project
A different system for the same plant was ordered by ABCO after this project and that equipment just shipped from Alba on-time as well.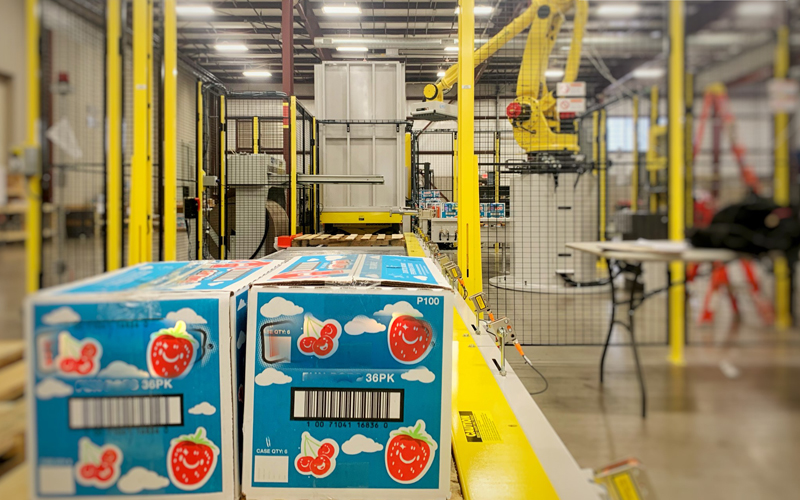 Conveyor/Product Specifications
(6) 5′-0″ Long Chain Driven Live Roller (CDLR) Conveyors
(1) Pop-Up Pneumatic Blade Stop @ "build zone" included Double Solenoid, Proximity & Cable
(1) Pallet Dispenser (no controls) but with all Devices Pre-wired to Junction Box
Rollers: 2-1/2″ Diameter x 11 Gauge with 11/16″ Hex Shafts
Effective Width: 52″
Elevation: 18″ Top of Roller
Super "E" VFD-Rated Motors
Under Slung Drives
30 FPM @ 60Hz
Paint: Color matched to Customer RAL Gray Color
About Us
Alba Manufacturing, established in 1973, engineers and designs heavy-duty roller conveyor systems. Our systems consist of chain driven live roller (CDLR), zero pressure accumulation, drag chain, gravity, lift and rotate, pallet stackers and dispensers, turntables, chain transfers and transfer cars. Our corporate office and manufacturing facility is located in Fairfield, Ohio, approximately 30 minutes north of Cincinnati, Ohio.
For more information regarding this application/solution, please contact us via phone at 866.252.2634; via web at www.albamfg.com or via email at RockSolidConveyor@albamfg.com.