Problem
The end user decided to increase the size of their manufacturing facility as they required more storage space for their finished goods.
Alba worked with an international systems integrator on the design of the pallet handling system in order to support our integrator's ASRS system (Automatic Storage and Retrieval System). Alba designed the conveyors to bring the finished product to the storage system and supplied the conveyors to take the finished product back to the warehouse when ready for shipment.
The pallets used in this system were 40" x 48" GMA and CHEP pallets with a maximum weight of 3,000 lbs. per pallet. We supplied over 450 pallet conveying products for this system including lift and rotate units, pallet dispensers, pallet stackers, drag chain conveyors, and chain driven live roller conveyors.
We also supplied two (2) types of transfers: 4-way thru drive side guard and thru-frame transfers. Additionally, two (2) types of turntables with chain driven live roller and drag chain conveyor tops were installed.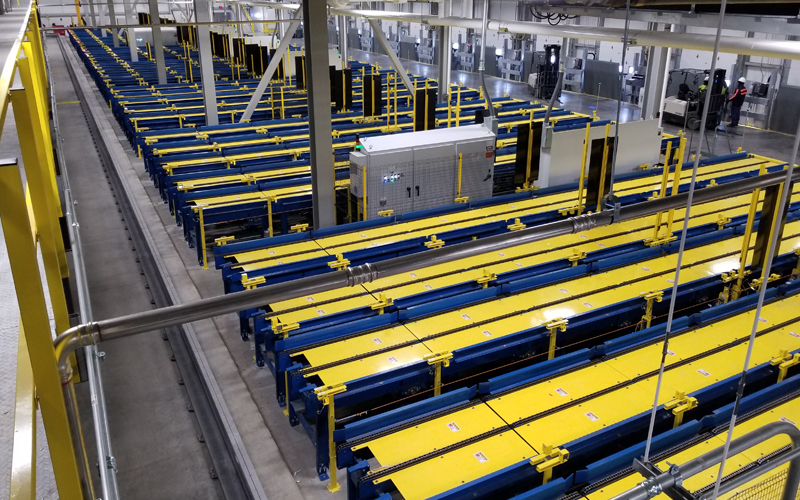 Integrator and End User Benefits
Alba pre-mounted all proximity sensors, solenoid valves, guide rails, treadplate and pneumatic actuated blade stops. All conveyors shipped fully assembled, saving the integrator a tremendous amount of field installation time, and decreasing the end user's ramp up time, getting the system ready more quickly.
With the new system, the end-user experienced less downtime, less product spoilage and increased system throughput.
The end-user was happy and thrilled to not have profits stripped away due to system back-ups, production jams, product spoilage, and equipment failure and/or repair.
Alba backs all products with a standard two (2) year warranty.
With Alba's proven track-record of superior product durability, the integrator and end-user experienced greater peace of mind.
The integrator benefitted from working with the highly trained and technical Alba team who supported their designs and equipment with great customer service!
Alba provided an ultra-competitive package, which led to our integrator winning the project, as well as maintaining an affordable solution for the end-user.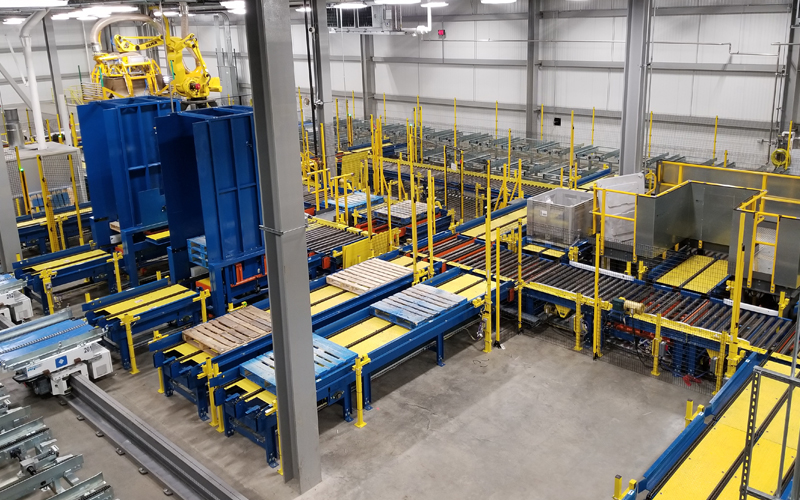 About Us
Alba Manufacturing, established in 1973, engineers and designs heavy-duty roller conveyor systems. Our systems consist of chain driven live roller (CDLR), zero pressure accumulation, drag chain, gravity, lift and rotate, pallet stackers and dispensers, turntables, chain transfers and transfer cars. Our corporate office and manufacturing facility is located in Fairfield, Ohio, approximately 30 minutes north of Cincinnati, Ohio.
For more information regarding this application/solution, please contact us via phone at 866.252.2634; via web at www.albamfg.com or via email at RockSolidConveyor@albamfg.com.